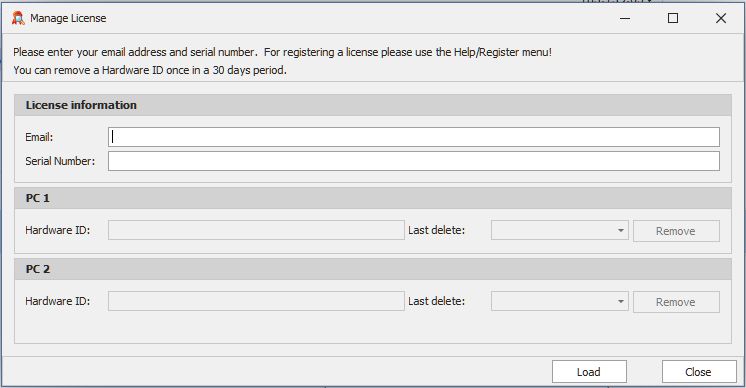 Transfer license and data to a new PC
In case of you buy a new PC or just reinstall the existing one you have to transfer your license and move transaction data.
License
First look for the email which contains the latest license key. Please note after each renewal a new license key is issued. Try to register with the given license key/serial number. Click on the Help/Register menu, enter your license key and click on the Register button. If the license key is accepted you can move forward to the next chapter, data transfer. If not please read on. By default TradingDiary Pro allows two registered PCs per license so if you already have registered with that key two PCs you registration will be refused. In this case you have to remove an existing PC from the license server. Click on the Help/Manage license menu. The following windows is shown: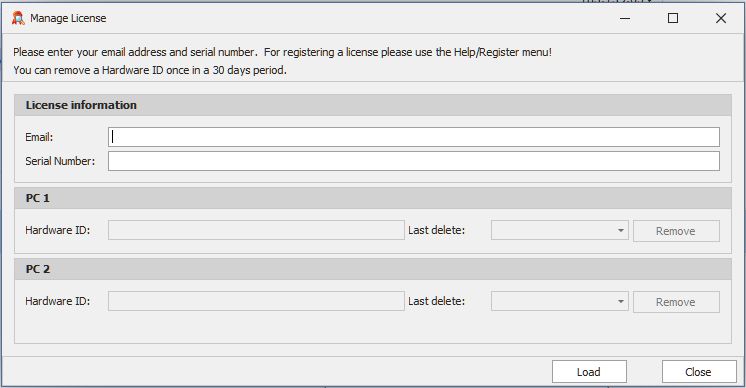 Fill the email and serial number/license key text boxes and click on the Load button. This will load the hardware id's of the previously registered PCs. Remove one or all of them. Please note we do not collect any sensitive data from your PC even its name. That's why only hardware ids are shown. After removing the registered PCs you can register you current one under the Help/Register menu.
Transferring data
All data of TradingDiary Pro is stored in a file. by default the file is located under the Documents/TradingDiary Pro folder. When you transfer your data simply copy the Documents/TradingDiary Pro folder from the old PC into the new one. Start TradingDiary Pro, click on the File/Open Database menu and load the previously copied database. If there are several ones then try to load the latest one.
Please note the software displays the name of the actual opened file in top left corner.