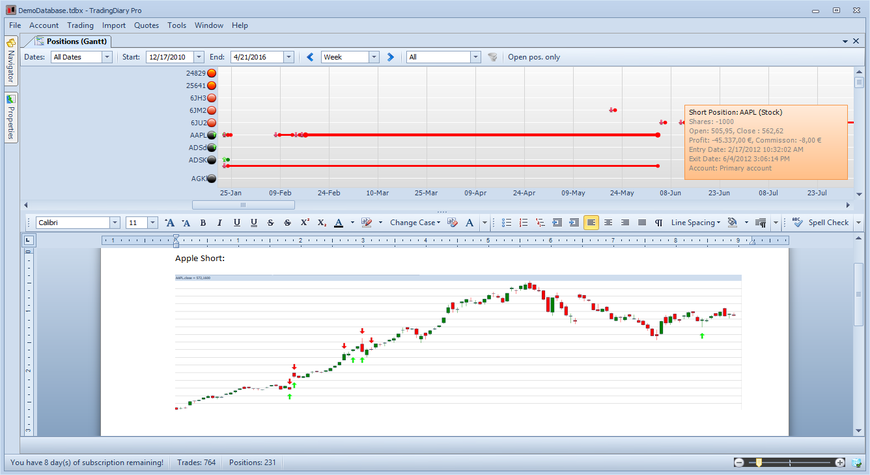 How to use TradingDiary Pro as a trade journal
Using TradingDiary Pro as a trading journal
In TradingDiary Pro there are several ways to add notes to trades. You can write down your feelings into a document or add screenshots to a position.
Positions Gantt View
The main journaling functionality can be found in the Position Gantt view. The view consists of three separated parts.
The first one is the filter toolbar. This is where you drill down the positions based on filter criteria. The second part of the view is a Gantt chart. This shows your positions in a graphical way. Each line in the Gantt is a position. The starting and ending points are the entry and exit dates.
The last and from this article point of view is the most relevant is the fully featured rich text editor. This is your trading journal for each position.
If you select first time a row which represents a trade/position in the in the Gantt view a document will be attached to the position.
You can add notes or even insert screenshots in the document. Once you select another row or just close the whole view the document will be saved to the database and you can open it at any time later.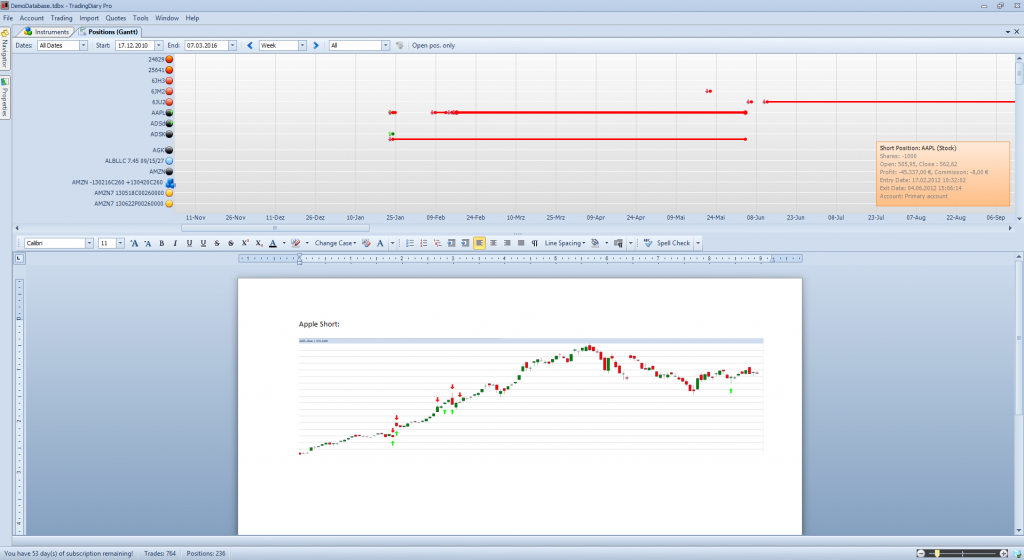 Positions` journals
If you would like to review your trading history by checking the existing journal entries you have to use the combined positions journals'.
Please click on the Reports/Positions` journals/Combined entry in the Navigator to open the journal document viewer.
This report shows all positions` journals in a combined document. The software goes through all positions and checks whether positions have an attached document and combines into a single document. Each document is added as a new page and the first two lines contain the basic information about the position like Long or Short, Ticker, PnL, Entry and Exit Dates.
Important note is that this document is read only thus you can't modify it.